Knitting For Dad
With Father's Day here again, it's a good time to reflect on Dad, and why it sometimes feels so hard to craft and shop for him! 
For knitters and crocheters, the standard gifts for Dads are hats, scarves, gloves if we're feeling up for fiddly finger knitting, and, of course, sweaters. Hats and scarves are the safest bets in terms of proper fit and, frankly, wearability. But how many hats and scarves can Dad really wear? 
Thankfully, the ultimate Father's Day gift has finally received the crafter's makeover—knit neckties are in vogue! (Side note: knit wool neckties were last in style in the 1920s, so we're living in a very lucky era, indeed. The haven't been in for nearly a century!)
Knitted neckties are a hot item in men's fashion and especially perfect for spring and summer. Touted as perfect for business casual and the ultimate necktie alternative for wedding season, knitted neckties are trending. Designers the likes of Burberry, Brooks Brothers, Timmy Hilfiger, Thom Browne, Charvet, Paul Smith and more are exploring the look in a range of colors, textures, patterns, and widths.
Brooks Brothers Knit Neckties
Lucky for us, we don't need to drop $195 (yowza!) on a knitted Burberry necktie, and we aren't beholden to the colors, textures, and patterns available ready made. 
Knitted neckties are fast (read: satisfying), easy, and perfect templates for textured stitches and color patterns. And unlike hats and scarves, Dad can't have too many of them. Not only can you bang out a few of these in all his favorite colors, but you're helping Dad be on trend and in fashion. Call it two gifts in one?
Tommy Hilfiger Knitted Neckties
In honor of Father's Day and to help update your favorite guy's summer season wardrobe (remember—you don't have to be a Dad to receive or wear a tie), String has created 3 fabulous necktie kits using two of our favorite spring yarns.
For this week only, the 3 tie kits featured below are each available for 15% OFF as part of our weekly String Special. Like several of the upscale designs we reviewed online, our ties are knit with silk—only the best for our guys.
With options for both knit and crochet, there's a little something for everyone. The above tie, Susan B. Anderson's Wedding Necktie, is knit in double seed stitch in cashmere-silk String Blossom, while the below Skinny Tie is knit in seed stitch in String Yarns Angel, a DK-weight, 100% silk yarn with gorgeous luster and a soft, smooth finish. Both show off the beautiful texture and sheen of Blossom and Angel.
The Men's Crocheted Tie, below, builds on rows of half double crochet crochet to achieve a wider profile, very reminiscent of the 1940s and classic in its shape.
Get any or all three of the above necktie kits this week for 15% off!
Father's Day may be over, but your father/brother/boyfriend/husband could always use an on-trend knitted necktie. To be perfectly frank, anyone could rock these ties. If you think neckties are just for men, behold:
Uh oh, boys. They might look better on us!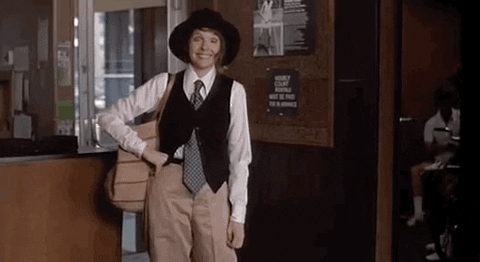 Would you rock a knitted necktie? Did you buy Dad a tie this year? Let us know in the comments below!